(click image for link)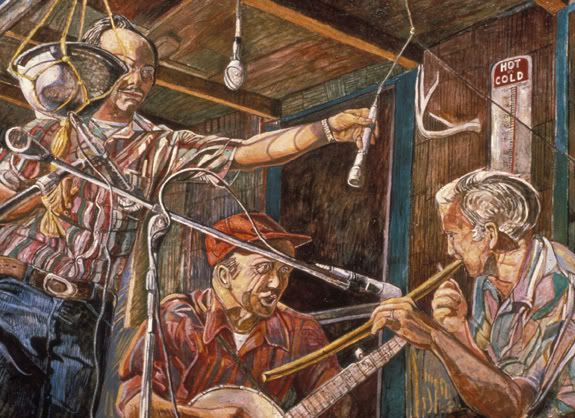 Through chance the good humor of the artist, I got to see the cover's to Art Rosenbaum's THE ART OF FIELD RECORDING box set, in the process of being painted in his studio. The box set, itself, is 50 years worth of recording Rosenbaum personally gathered by visiting muscians that the world might not otherwise have access. Rosenbaum's drawings, paintings, and text accompany the 4 discs.

The fidelity to its subjects in Art's work is unparalleled.

Here is copy of the review in the NEW YORK TIMES:

"THE ART OF FIELD RECORDING, VOL. 1
Every day the past of American music has a better future. Four years ago the Dust to Digital label put out "Goodbye, Babylon," which some called the greatest anthology of American gospel music ever assembled. Now the label, based in Atlanta, has produced "The Art of Field Recording, Vol. 1," four extraordinary discs culled from tapes recorded by Art Rosenbaum, a professor of art at the University of Georgia who has pursued musicology as a 50-year sideline.
Obviously it isn't definitive; it's just one man's work. But it's a gold mine, an ark. There are string bands, acoustic blues, ring shouts, "hambone" chants, Sacred Harp and Georgia Sea Island singing, the "lined-out" hymnody of Southern churches, unaccompanied fiddlers and banjoists and jew's-harpists. A great deal of it is spooky and blindingly beautiful, and the set owes its power to Mr. Rosenbaum's judicious ear. Almost all of these performers, often recorded in their homes or churches — including members of the W. B. Thomas Gospel Chorus, above — transcend the clichés of their style. There will be more: Volume 2 arrives next year. (Dust to Digital. Four CDs. $69.98.) BEN RATLIFF"